About
Renentech Laboratories
Renentech Laboratories Pvt Ltd, based in Mumbai, India is the 1st private sector company in India who was awarded the prestigious Accreditation certificate by BARC in 1999 to offer & provide Personnel Radiation Monitoring Services ( PMS )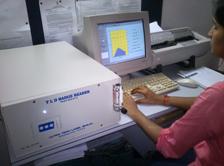 Renentech Laboratories carries out more than 20000 TLD–PMS test every month and provides Personnel Radiation Monitoring Services( PMS ) to more than 50000 radiation personnel in the four states of Maharashtra, Gujarat, Rajasthan & Goa ( As mandated by BARC ).
Renentech Laboratories is also recognized by Federal Authority for Nuclear Regulations (FANR) UAE and provides Individual Radiation Monitoring Services in the seven states of UAE. Renentech Laboratories is also an approved and registered provider of Radiation Services for United Nations Global Marketplace (International Atomic Energy Agency).
We feel and believe that Renentech's Personnel Radiation Monitoring Service ( PMS ) should be an active component of every radiation generating equipment installations. Our quality of deliverables, product expertise and unrivaled client service are the DNA of our company.
With our 14 years of Personnel Radiation Monitoring & Radiation protection experience, Renentech Laboratories employs knowledgeable & friendly staff who assist you with your AERB / BARC related radiation services matters.
Additionally Renentech Laboratories has a dedicated team of BARC trained knowledgeable personnel who are eager to help clients understand the intricacies of the Personnel Radiation Monitoring program as well as the Dose Results and to make informed decisions regarding Radiation Protection initiatives for their staff.
Availing our PMS services assures that your are compliant with AERB regulations as well as protect you in the event of litigation. Also you are @ peace knowing that your employees are safely monitored. We are dedicated to providing our clients the best Personnel Monitoring Service ( PMS ) possible and the most accurate radiation dose assessments available, all at a very competitive pricing ( BARC determined ).