Personnel Radiation Monitoring Services (PMS)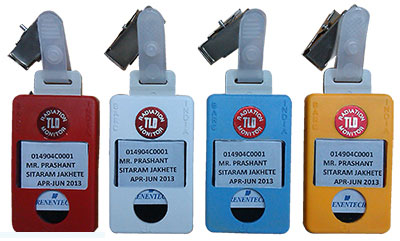 The Personnel Radiation Monitoring Service (PMS) monitors the exposures of workers in the Medical, Industrial, Dental fields to ionizing radiation.
WHO NEEDS TO BE MONITORED
As per Atomic Energy / ( Radiation Protection ) rules, 2004 & AERB Safety code no AERB/SC/MED-2/REV-1, 2001, anybody who is likely to be exposed to radiation over a long period of time as a result of their work should compulsorily be monitored.
CATEGORIES OF USERS COVERED UNDER PERSONNEL RADIATION MONITORING SERVICES ( PMS ).
ON QUARTERLY BASIS
Radiologist, Orthopaedic Surgeons, Dentist, Radiation Oncologists, Technicians working in
Medical Diagnostic X Ray Centres

CT Scan Centres

Cathlabs Centres

Radiology & Radiotheraphy Centres of hospitals

Nuclear Medicine Centres of hospitals

Dental X ray Centres

Orthopaedic X ray Centres

Radiation Generating equipment manufacturers & their services engineers

Engineers who provide Quality Assurance service of Radiation Generating equipments
ON MONTHLY BASIS
Radiographers & Technicians working in Industries in the field of
Non Destructive Testings ( NDT )

Well logging

Irradiators
All Personnel working in radiation fields like Nuclear Power plants, Nuclear Fuel plants, Uranium Mines.
DOSE LIMITS AS RECOMMENDED BY ICRP ( I.C.R.P. 60-1990 )

ICRP guidelines have established radiation protection standards and have set annual effective dose limits for radiation workers in order to minimise the chance of adverse effects occurring. These standards recommend that the annual dose received by radiation workers should not exceed 20 millisievert (mSv) averaged over defined period of 5 years ( 100 mSv in 5 years), with no more than 30 mSv in any one year as per AERB Directive.
By the continual wearing of monitors, it is possible to determine the annual dose received by each individual and to establish that the amount of radiation received by these people is well below the recommended limits. Personnel Radiation Monitoring Service is useful for checking the adequacy of radiation protection and can be used for documenting the occupational dose of the radiation personnel, especially when the radiation personnel is accidentally exposed and to show inadequate or improper radiation protection practices.
DOSE RECORDS AND PMS DATABASE
TLD Radiation badges are issued regularly for either on monthly or quarterly periods. At the end of each period, the monitors are returned to the Personal Radiation Monitoring Service for processing and assessment of the doses recorded by them. The Dose Report issued to each Centre lists the doses received by each monitor for each personnel and the accumulated doses received in the last twelve month period for each personnel.
The Dose records of all individual monitored by the service are uploaded to National Occupational Dose Registry Section (NODRS), Radiological Physics & Advisory Division (RPAD), of Bhabha Atomic Research Centre (BARC), Mumbai, India which maintains the life time dose record of each radiation personnel monitored.
Since 1952, each radiation personnel registered with the service has, had their lifetime doses recorded on the NODRS database which is maintained by Bhabha Atomic Research Centre ( BARC ), Mumbai. This enables a complete dose history of each person monitored by the service to be maintained, no matter where they work.